Published October 14, 2017
With Nintendo leading the way with their introduction to the NES Classic and Super NES Classic, SEGA is up next bringing the Genesis Flashback HD.
AtGames has the Sega Genesis Flashback HD releasing November 10 and will priced at $79.99 for the all-in-one console. In typical Genesis fashion, it does something that Nintendo doesn't even today, it allows you the ability to use your Genesis cartridges as well as the controller. Almost certain that there won't be perfect compatibility but it's better than not trying.
Earlier models of this console were said to be very bad and unresponsive so they went back to the drawing board due to the controllers being non-responsive and the gameplay being glitch-heavy but later they've updated the system taking care of the choppy gameplay and bad controllers.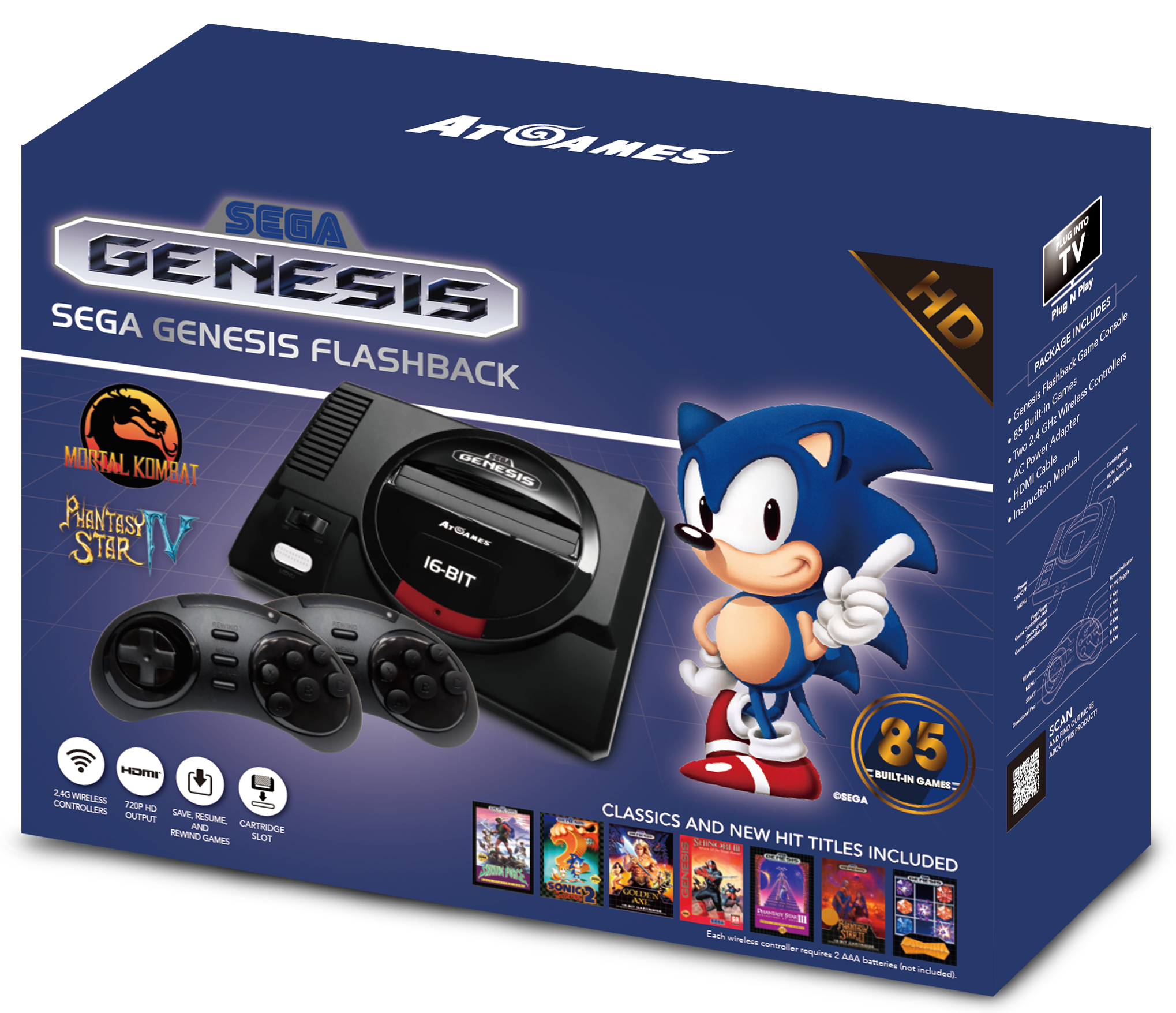 It's said the Sega Genesis Flashback HD has 85 games, this contains 45 Genesis games, 14 Master System games, 7 Game gear games, and 19 off-brand games that appear non-factors. So basically 66 games which is still more than the most recent SNES reboot.
The SEGA Genesis and Super NES was the Original Console war back in the early 90's. The Genesis was my personal preference, but this version is said to have a very lack-luster lineup where some classics could've (and should've) been for the price they're charging.
Genesis Games:
Alex Kidd in the Enchanted Castle, Alien Storm, Altered Beast, Arrow Flash, Bonanza Brothers, Chakan: The Forever Man, Columns, Columns III, Comix Zone, Crack Down, Decap Attack, Dr. Robotnik's Mean Bean Machine, ESWAT, Eternal Champions, Fatal Labyrinth, Flicky, Gain Ground, Golden Axe, Golden Axe II, Golden Axe III, Jewel Master, Kid Chameleon, Mortal Kombat, Mortal Kombat II, Mortal Kombat III, Phantasy Star II, Phantasy Star III, Phantasy Star IV, Ristar, Shadow Dancer, Shining in the Darkness, Shining Force, Shining Force II, Shinobi III, Sonic the Hedgehog, Sonic the Hedgehog 2, Sonic & Knuckles, Sonic Spinball, Sonic 3D Blast, Super Thunder Blade, Sword of Vermilion, The Ooze, Vectorman, Vectorman 2, Virtua Fighter 2.
SEGA Master System Games:
Alex Kidd in Miracle World, Alex Kidd: High-Tech World, Alex Kidd: The Lost Stars, Assault City, Astro Warrior, Dragon Crystal, Fantasy Zone, Fantasy Zone: The Maze, Kenseiden, Kung Fu Kid, Phantasy Star, Psycho Fox, Snail Maze, The Ninja.
Game Gear Games:
Baku Baku, Defenders of Oasis, Sonic Chaos, Sonic Drift 2, Sonic Triple Trouble, Super Columns, Tails Adventure
After seeing some of the games in the Genesis lineup and more importantly, the ones that aren't, it's gonna be hard for most of us that are hardcore Genesis purist to get behind this. There are TOO MANY games missing from this. Splatterhouse, Castlevania: Bloodlines and The ENTIRE Streets of Rage series in favor of games like Alex Kidd, Dr. Robotnik's Mean Bean Machine and Columns III.
This system has more sonic-themed games than i can count and not enough of the OG games that gave the Genesis it's identity. I have no problem with the game gear and master system games but the lineup in this system is NOT. VERY. GOOD.
In closing, if you're just a fan of nostalgia, go ahead and get it, but if you're like me and want the authentic SEGA Genesis feel, you won't get that with this one due to the lack of some of the console's most innovative games that were substituted for Sonic-based games and games no one and i mean NO ONE cares about. This is just a case of quantity over quality and the NES and SNES classics seemed to nail whereas the SEGA Genesis Flashback HD falls short.
Hip-Hop Snob, Gamer and Sports Guru and the Big Cousin of the Gaming Illuminaughty.