Published January 23, 2019
To call Bethesda's Fallout 76 a disappointment to some players that purchased the game would be an understatement. The community appears to be divided and depending on who you ask, you'll either get players that will tell you the game is terrible, and those that'll tell you that they're indifferent.
One disgruntled Fallout 76 player took their frustration to twitter suggesting that the game should be Free-To-Play. Bethesda quickly shut down this demand: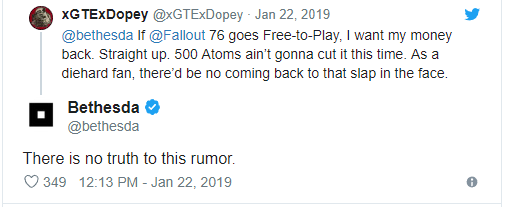 There isn't really a clear indication as to how this will play out, most players who openly spoken out about the game appeared to be annoyed, stating that Fallout 76 appeared to be rushed, underdeveloped and unoptimized. Let's hope that there can be mended fences between Bethesda and the community that seems to be upset with the game.
Hip-Hop Snob, Gamer and Sports Guru and the Big Cousin of the Gaming Illuminaughty.